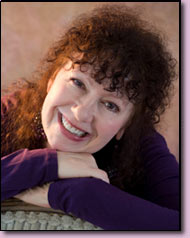 The Psychic Counselor
Lynda Hilburn

Telephone
Psychic/Tarot Consultations

A telephone consultation with Lynda is unique because she brings to every session her 30+ years of experience reading and studying the mystical Tarot; her empathic, clairsentient, psychic abilities; her education, training and experience as a counselor, psychotherapist and personal coach; her experience and knowledge of a diverse range of nontraditional and traditional spiritual paths; her own metaphysical journey; her understanding of higher consciousness principles; and her common sense, down-to-earth approach. Her sessions are a wonderful blending of therapy and magic.
Lynda specializes in questions regarding: life decisions, emotional difficulties, relationship issues, healing and transformation options, career/money/business concerns, spiritual growth, personal growth, exploring and changing old beliefs, metaphysical challenges, higher consciousness choices, goals creation and much more.
Regular Telephone Psychic/Tarot Consultation Rates

$2.00/minute with a 20-minute minimum, payable by MC/Visa
This option is for those who can benefit from occasional guidance.
Special Package Prices: Half-Price Psychic/Tarot Consultation Rates
These packages* are for the benefit of those who wish to consult on an ongoing basis.
All packages* are billed in advance in 3-month increments, at the rate of $1/minute,
payable by MC/Visa.
60 Minutes Per Month, $180
90 Minutes Per Month, $270
120 Minutes Per Month, $360
240 Minutes Per Month, $720
*Subject to certain guidelines. Information available upon request.
Please call: 303-939-8832 or
email: LyndaSoul@aol.com
In-person tarot consultations, psychotherapy sessions,
hypnotherapy sessions, classes, workshops and groups are available
in Boulder/Denver, Colorado.